Denver Echo Executive Guest House
Your Home away from home
Maseru - Lesotho Branch
Seeiso Avenue & Maama Street, Moshoeshoe II, Maseru
NEWS BLOG
Lesotho Information
1 October 2018 by Britannica
Lesotho, country in Southern Africa. A scenic land of tall mountains and narrow valleys, Lesotho owes a long history of political autonomy to the mountains that surround it and protect it from encroachment. Since the Neolithic Period, the mountain kingdom was the domain of Khoisan-speaking hunter-gatherers. In the 19th century the Sotho, led by Moshoeshoe I, took control of the region. It remained independent until it became a British protectorate, one of three British High Commission Territories (the others being Bechuanaland [now Botswana] and Swaziland).
Completely encircled by the Republic of South Africa but separated from it by forbidding mountain ranges, Lesotho has endured decades of turbulent politics, periodic economic crises, and grinding poverty since gaining its independence from Great Britain in 1966. Though culturally conservative in the main, the people of the country welcomed the modernization programs begun in the 1990s, which have brought new wealth to the country but at the cost of much environmental damage. Tourism and revenues from the country's diamond industry have also helped to improve material conditions, and the capital, Maseru, has grown to become one of Southern Africa's most attractive cities. Of these changes, Sotho writer Mpho 'M'Atsepo Nthunya remarks.
Land
The country forms an enclave within South Africa, bordering on three of the latter's provinces—KwaZulu-Natal, Free State, and Eastern Cape. Like only two other independent states in the world (Vatican City and the Republic of San Marino), Lesotho is completely encircled by another country, on which it must depend for access to the outside world.
Relief, drainage, and soils
Two-thirds of Lesotho consists of mountains. The highest peak, Mount Ntlenyana, is 11,424 feet (3,482 metres) above sea level. The Drakensberg range forms the eastern boundary with KwaZulu-Natal. The Maloti spurs of the Drakensberg, running north and south, join the main range in the north, forming a plateau from 9,000 to 10,500 feet (2,700 to 3,200 metres) in elevation. This plateau, the centre of the cattle-raising and agricultural industries, is the source of South Africa's two largest rivers—the eastward-flowing Tugela and the westward-flowing Orange—as well as tributaries of the Caledon (Mohokare). Three other important rivers in Lesotho are the Senqunyane in the centre of the country, the Kometspruit in the southwest, and the Matsoku in the northeast. The foothills, with elevations averaging between 6,000 and 7,000 feet (1,800 and 2,100 metres), descend in undulating slopes to the west, where the lowlands bordering Free State rise to elevations of 5,000 to 6,000 feet (1,500 to 1,800 metres). The mountain soils are of basaltic origin and are shallow but rich. The soils of the lowlands derive mainly from the underlying sandstone. Extensive erosion has severely damaged soils throughout the country.
Climate
Precipitation, brought by the prevailing winds, occurs mostly between October and April and is variable; the annual average is about 28 inches (710 mm), with amounts decreasing from east to west. Hail is a frequent summer hazard. Temperatures in the lowlands reach as high as 90 °F (32 °C) in the summer and plunge to 20 °F (−7 °C) in the winter. In the highlands the temperature range is much wider, and readings below 0 °F (−18 °C) are not unusual. Frost occurs widely in the winter, when the Maloti Mountains are usually snowcapped.
Plant and animal life
Lesotho is largely covered in grasses, although trees also appear on the landscape. Indigenous trees include Cape willows, cheche bush (used for fuel), and wild olives. Other willows and white poplars have been introduced into the country. There are numerous indigenous species of aloes, which are commonly found in the cooler, wet areas. Overgrazing, overutilization, and soil erosion have drastically depleted and altered the grasslands, reedbeds, and woody bush on the slopes. Reforestation schemes have been attempted but have met with limited success.
In the mid-19th century, zebras, wildebeests, ostriches, and lions could be found in the country. However, hunting and deforestation have mostly eliminated the populations of large mammals; the last lion was killed in the 1870s. Smaller antelope and hares can still be found, and the hyrax, or dassie, is common. Sehlabathebe National Park in the southeastern highlands near Qacha's Nek protects such birds as raptors and such mammals as mountain reedbuck and leopards. Lesotho is the last stronghold in Southern Africa of the magnificent bearded vulture, or lammergeier. Some rivers contain yellowfish and the rare Maloti minnow; trout and the North African catfish have also been introduced.
People
Ethnic groups
The Sotho (also known as Basotho) form the overwhelming majority of the country's population. They were originally united by a common loyalty to the royal house of Moshoeshoe I, who founded the Sotho nation in the 19th century. Internally, divisions between different chiefdoms—and within the royal lineage itself—have had political significance, but externally a sense of Sotho nationhood and cultural unity remains strong. Lesotho is also home to a Zulu minority, a small population of Asian or mixed ancestry, and a European community that is dominated by expatriate teachers, missionaries, aid workers, technicians, and development advisers.
Languages
Except for English, all the main languages spoken in Lesotho are members of the Niger-Congo language family. Sotho (Sesotho), a Bantu language, is spoken by the majority of the population, though both Sotho and English are official languages in the country. Zulu is spoken by a small but significant minority. Phuthi, a dialect of Swati, and Xhosa are also spoken in parts of Lesotho.
Religion
Some four-fifths of the population profess Christianity, of which the largest denomination is Roman Catholic; other denominations include Lesotho Evangelical, Presbyterian, and Anglican. Independent churches are also present, together with Zionist sects (small African sects that blend Pentecostal Christianity and indigenous ritual belief). Other religions—including Islam, Hinduism, and Buddhism—are practiced by small percentages of the population, as are traditional religions. Some adherents of Christianity also embrace traditional religious beliefs.
Settlement patterns
The population density of Lesotho is high for an African state, despite the thinly settled areas of mountainous terrain. A large proportion of the population lives in the western lowlands, which have a much higher population density than the rest of the country as a whole: almost three-fourths of the population lives in the narrow corridor, only 25 miles (40 km) in width, that stretches along the Caledon River. Although not permanently inhabited, the mountain grasslands on the slopes of the high plateau and in the valleys provide summer grazing for sheep and cattle, tended by herders in isolated cattle posts. Some of the deep valleys, such as the Senqunyane, produce crops of wheat, peas, and beans.
Since independence in 1966, there has been considerable population movement toward the capital city, Maseru. While Maseru is the largest city by far, smaller urban populations inhabit Maputsoe, Teyateyaneng, Mafeteng, and Hlotse. However, about three-fourths of the population is rural.
Families and clans still cluster together as units in the numerous small rural villages, where social cohesion is strengthened by the persistence of clan and family loyalties. The villages range in size from one large family to four or five extended families, with an average of 30 to 50 nuclear families. The villages, situated on the plains and surrounded by aloes and trees, offer fine views of the rocky highlands.
---
ABOUT US
#morethananumber #bookingcom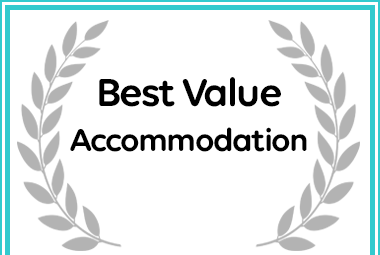 Afristay has named Denver Echo -Executive Guest House as Best Value Accommodation in Maseru 2019.

*** News Flash ***
It's never been this easy to secure your stay with us using ANY bank card. Try it now by clicking on the "check availability" tab above! Safe, secure, and fast.
Our Vision
To be a continuously responsive company by listening to, and anticipating our customers' desires whilst embracing technology and honing our home-grown hospitality.
"Service Growth Prosperity"
Our Mission
To exceed guest expectations, inspire and motivate employees, and achieve excellent financial results…
By offering professional, personalised, flexible hospitality and service to the discerning business and leisure market.
Technology is radically shifting the way we conduct business and while the Lesotho hospitality industry still has a lot to learn from our international counterparts, at Denver Echo we have exciting plans in place to become the industry leader in this arena.
Our unwavering commitment to providing and delivering outstanding services and experiences to new and returning guests by exceeding their expectations, by recognising and acknowledging our employees' contributions and involvement, by ensuring fair and reasonable returns to our shareholders, and by being responsible, conscientious, trustworthy, and dependable corporate citizens.
Our Values
We are a professional, passionate, caring and empowering company that encourages innovation and engagement. We are a learning organisation committed to the retention and development of our people as an essential part of building strong, respectful and enduring guest relationships. Our staff are motivated, friendly and obsessive about enhancing the guest experience through meeting and exceeding expectations for quality service.
Among the standards, morals, ethics, ideals, and tenets of beliefs that we strive to encourage, uphold and sustain with our managerial and service staff, is for us to be relevantly creative but eco-minded, to build lasting rapport and relationships, to always be honest and professional, to extend compassion where required, and to be responsible for our own actions.
In addition, we strive to be approachable, always truthful and sincere, to have dedicated passion for our work and duties, to co-exist as a team and to respect others irrespective of age, race and/or religion, to have courage to embrace change, and to deliver exceptional and exemplary service 24/7 to everyone and anyone who walks through our doors.
Pursuing this mission is a dedicated team of talented individuals. Knowledge and passion for exceptional, personalised service are the foundation upon which our experience is built.
Excellence
We perform at extraordinary levels. We are professional in our appearance, language, and behaviour.
Tradition
We embrace and reflect the heritage and traditions of our location. "Khotso Pula Nala" (Peace Rain Prosperity)
Service
We consistently anticipate and are responsive to the expressed and unexpressed wishes and needs of our guests.
Empowered
We exercise good judgment and act to create unique, memorable and personalised experiences for our guests. We own and resolve guest problems brought to our attention.
Innovation
We continuously seek opportunities to apply creativity and improve our service and product.
Teamwork
We aim to create an environment of lateral service so that the needs of our guests and each other.
Achievements & Systems of Value Monitoring
We endeavour to deploy the following systems to enhance our service and develop our team:
Guest satisfaction tracking
Employee satisfaction tracking
Competency system
Standards and standard abidance tracking Performance and competence rating Incentive system
Education and development system Financial results as measures of success
Key Service Matrix
Accuracy
Check-in
Cleanliness
Communication
Location
Value
Trips hosted
Hospitality Target: Super-host - experience in providing great stays.

The Neighbourhood
Denver Echo is situated in the heart of Moshoeshoe II; one of the oldest neighbourhoods in Maseru, in the 1880's King Moshoeshoe I (founder of the Basotho nation) often rode on horseback to inspect the territory from here as it is flanked on one side by the Mohokare (Caledon) river which demarcates the current border with South Africa, 2 dams (Maqalika and Japane), and vast open agricultural land and sweeping meadows on the other flanks.
Today the neighbourhood is unique in that in spite of its close proximity to the bustling hub of the capital city centre (3km); it is untouched by traffic and noise, making it a quaint tranquil oasis. Many families have lived in the neighbourhood for multiple generations making it one of the closest-nit communities in Maseru. The stand out feature of this area is that it is safe and quiet.
This unique positioning places most areas of interest in close proximity: the Maseru Border (7.5 km), Maseru City Centre (3 km), Moshoeshoe I International Airport (23 km, 30-minute drive); The closest health services are 1.3 km (3 minutes) away. Major Roads connect you to all the above and to the North and South of Lesotho. At all times you are always minutes away from upmarket shopping centres, sports stadiums, Maseru Club/ Maseru Golf course, 'Manthabiseng Conference Centre, The Royal Palace, Government Headquarters, The Caledon ("Mohokare") River, and the Morija Museum. Thaba Bosiu Royal Heritage is perched on the outskirts of Maseru (25km). The Great Maluti Mountains are but a constant feature throughout the country as you increase in altitude the further inland you travel. Within a 200km radius you will find Katse Dam- (Make a point to drop in at Motebong Lodge if you are in this area- Best trout and quail in Lesotho), Afriski Ski Resort, Molimo Nthuse Pony Trekking, and the Orange River to name but a few.
Communication
If it's your 1st time travelling to Lesotho, please note cellular /data roaming can prove challenging, therefore your cell phone and navigation tools may not operate as anticipated. To overcome cellular communication, we recommend you purchase a sim card at the port of entry if you are unable to make calls (cost +/- R10, no ID or RICA required) and some airtime (Even R20 worth can go a long way in avoiding potential headaches) - You have been warned!
Our Impact on the Community
Create entrepreneurs
Create employment
Skills development
Utilise local resources
Network with other industry players and partners
Aid in developing tourist orientated activities
OUR FACILITIES
Spacious boutique luxury suites, with an extensive complement of self-catering amenities, for discerning travellers, "digital nomads" and romance-seeking couples, looking for excellent value, located in a safe, quiet and friendly neighbourhood. 
The Space
We cater for the corporate and discerning traveller offering 5 sophisticated en-suite bedrooms and "stand-alone houses" with style, comfort, DSTV (cable/satellite), FTTH and 4G WiFi. The accommodation offering is varied to suit business, family, couples or the individual traveller. 
Combining simple elegance with the warm and congenial hospitality rooted in Lesotho traditional values, enjoy breakfast, lunch and supper in the comfort of your own home away from home prepared by our local chefs. Alternatively, lunch and dinner can be enjoyed in the many good restaurants only a short drive away from the guest house and we are always happy to guide you where to dine, shop or explore the very beautiful wonders that Lesotho has to offer. 
Guest Access
Respective guests are allotted their own stand-alone "house" within which you can be fully at home as the rooms are well appointed. There are some shared amenities which include the BBQ/Braai area and "evolving" garden. Should you require prepared meals, our on-site chefs are happy to oblige. Arrangements can be made regarding laundry (washing and ironing) in support of the local neighbourhood economy or it can be taken to the local laundromat.
Guest Interaction
As the principals, we travel quite a bit, but we have an amazing support team to ensure that all guests feel welcome, safe, and informed. 
Other Details
Our establishment is the best-kept secret in town; our intimate pool of clients remain fiercely loyal, and we trust you too will become part of our ever-growing family.
We can make arrangements for spa/masseuse services upon request. (Masseuse table on-site.) 
Business Amenities
We boast a full complement of Business-centric amenities which include:
The Essentials: Towels, bed sheets, soap, toilet paper, and pillows
WiFi & FTTH: 1 gig per guest house/ night complimentary. Continuous access
Irons, hangers, Hairdryer, shampoo, laptop-friendly workspace, and smoke alarms are mandatory.  
Getting Around
There is an efficient and cost effective cab service available within minutes; David Lehloenya (+26658512668) offers a dedicated service to most of our guests, given his astute attention to time and cautious driving temperament. For more flexible (24-hour service) cab services Thabo Sello is dependable (+26656419077). 
Much of Maseru can be seen on a bicycle from here, and there are many an interesting route, to cut short the distances even further for joggers and cyclists.
Should you be in your own car in Maseru, just keep a cautious eye out for the odd overzealous ("4+1") cab driver. 
Policies and House Rules
Check-in window: 2 PM - 10 PM
Checkout time: 10 AM
Deposits 
The deposit amount is 50% of the booking fee

Deposits should be made within 48 hours or as soon as possible to avoid disappointment.
Refunds and Cancellation policy
More than 30 days prior to arrival: cancellation fee of 20% of the deposit

More than 7 days prior to arrival but less than 30 days: cancellation fee of 100% of the deposit

Less than 7 days prior to arrival: cancellation fee of 100% of the booking amount

Reservation Preferences:
Advance notice: Same day, until 10:00 PM
Preparation time: None 
Booking window
Trip Length
Minimum stay: 1 night
Maximum stay: 1125 nights (3 years) 
Self check-in: Building staff is available to let guests in.
Contact Ntsebo on +266 57619738 or +266 68671882 or +266 2231 5323 for concierge services. 
Rules
Suitable for children (2-12 years)
Suitable for infants (under 2 years)
Not suitable for pets
No smoking
Parties and events allowed
The twin garage is currently off limits. Surveillance cameras/ devices on property 

Miscellaneous Activities
In due time Denver Echo will be spun off to operate as an independent company to Lihlaba Tours and Leisure (Pty) Ltd. Greater focus will be placed on enhancing our activities at creating a tourism corridor deep into the mountains of Mokhotlong Malefiloane, affectionately named "Wakanda", and ultimately establish a tourist-focused "African Alpine" retreat in the area. Lihlaba Tours and Leisure (Pty) Ltd is a Lesotho based company that has carried out various initiatives in the Malefiloane region of Mokhotlong with a vested objective of creating sustainable enterprises that feed into the overall objectives of building a tourist orientated haven, whilst developing and assisting the community in which it operates.  
With the advent of tourists frequenting the region, it is envisaged that a number of activities that will be spearheaded by members of the Mokhotlong community, will be coordinated by the lodge. Most if not all of these activities has the potential of increasing employment and the economic well-being of the community.
These include: 
Basotho Pony Trekking excursions: Horses will be rented from members of the community and guided tours led by the experienced horsemen Mokhotlong is famous for. The full extent of the hidden sights and wonders and places of significant historical significance explored.
Traditional dance/cultural rituals: The lodge is happy to organise for its guests to have the men, women and children of Mokhotlong exhibit their natural talent exhibited through dance, song and acting, to increase the extent of social interaction between different cultures.
Food and cultural artefacts: The cuisine Basotho are fond of can be readily sourced from the community for supply to the lodge. Local produce such as mohair products can be sold from the curios shop at the lodge.
4x4 trails/ Hiking trails/ snow hiking: the majestic mountains, including the famous "Thabana Ntlenyana" offer any hiking party an experience of a lifetime. Dinosaur relics and cave paintings in the area will continue to hold interest and the indigenous knowledge of these is priceless.
Trout Fishing: The numerous rivers, including the Senqu offer avid fishermen the opportunity to fish in serene unpolluted waters.
Whitewater rafting: The same rivers can provide a testing challenge for adventure seekers looking for a white-knuckled water experience.
Bungee Jumping; numerous cliff faces are ideal for base jumping.
Wind gliding/ model plane flying: The constant winds and uncluttered environment can give those who want to take to the skies an unrivalled vantage point.
Bird watching: There are species of bird only found in Mokhotlong that include the namesake of the region ("Mokhotlo").
Serene getaway: One of the main attractions of the region is that it provides the ideal escape from the hurly-burly nature of urban metropolis.
Privacy Statement
This Privacy Statement applies to Denver Echo, ("Denver Echo" or "we" or "our" hereafter). It describes how Denver Echo collects and processes personal data about (potential, existing or former) Trip Providers and other business partners. This Privacy Statement, therefore, applies to personal data of owners, employees, representatives or other individuals acting on behalf of a Trip Provider or other business partners (Trip Providers, other business partners and the related individuals are hereafter together or individually referred to as "Business Partners" or "you"). A Business Partner within the meaning of this Privacy Statement may be a Trip Provider (including the provider of accommodation, attractions, park, museum, etc.), business partners enabling the reservations of Trips through their websites and/or apps or other means, including travel agencies, third party vendors and other business partners maintaining a business relationship with Denver Echo. For a better understanding of what we mean by "Trip", "Trip Provider", and "Trip Reservation", please read the Denver Echo Terms and Conditions. 
MEET THE TEAM
Mahlape Namane
Our effervescent Head Chef
Mats'eliso Pone
Tourism industry expert
Mapalo "Teddyyy" Taolana
Chef